Sally Willis
Occupational Therapist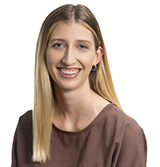 Sally Willis

Sally has a Bachelor of Occupational Therapy (Honours).
She is passionate about working collaboratively with clients to reach practical and meaningful goals. Sally uses a person-centred approach tailored to suit each individual to help them see tangible changes in their lives for the better. Sally's personal goal is to help each of her clients live their best life.
Sally has experience working in adult mental health rehabilitation as well as in child development and has worked with children who have (Autism Spectrum Disorder, Attention Deficit Disorder, Intellectual disabilities and Movement Disorders).