Swallowing in Aged Care
Question: Do you have a proven Swallowing Difficulties and Dysphagia Training Program In Place? If you answered NO, what are you waiting for?
Hello Concerned Carer,
FACT: 33% of all residents in aged care suffer from swallowing difficulties.
As you can see, right off the bat – I've given you a concerning health statistic that everyone in aged care must know. Why have I done this? Actually, there are 2 good reasons.
I've got something important to tell you so I wanted to get your attention. I believe time is of the essence. The longer you delay in understanding the latest in swallowing difficulties training, the closer you may be to dealing with the potentially tragic – and always frustrating – problem of swallowing difficulties.
And second, you've probably noticed the DVD link I've included here. It's a quick sneak peek (less than 5 minutes long) into my new "Swallowing and Dysphagia Total Education Package". So many of our aged residents suffer from this frustrating problem, I thought it would be appropriate to show how you can get the quickest and easiest-to-follow training program on the market today…
And that's why I've put together this FREE Report. I'm concerned about Dysphagia and the pain it causes the elderly, who often can't cope with swallowing difficulties on their own…leading to malnourishment, illness and, even worse, in some cases death.
The GOOD NEWS is… I've also outlined a solution for you so you can rest easy, knowing you won't ever have to worry about really understanding how to cope with aged residents suffering swallowing difficulties. It's all explained in the report about to be emailed to you. Just enter your email and it'll arrive in your inbox.
Please take the time to watch my FREE sample DVD entitled '4 min sneak peek at Swallowing & Dysphagia Total Education Package', then read the report, it's so important to the health and welfare of aged residents…and your duty of care as a care-giver.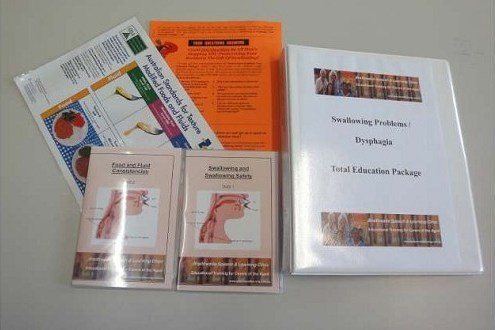 Source: http://www.agedcareguide.com.au/shop/product.asp?p=37049

Order form for my Swallowing Difficulties Education Package
You will need the Adobe Reader to view and print the above documents.

FREE REPORT ACCESS BELOW
Simply enter your name and email address below, to download FREE Report immediately!