Eunice Li
Speech Pathologist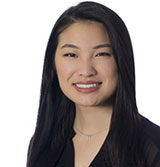 Eunice Li
Eunice is a qualified speech pathologist and a member of Speech Pathology Australia, the profession's peak body. She completed her Bachelor of Applied Science (Speech Pathology) at the University of Sydney.
Eunice is passionate about working with both paediatric and adult populations, enjoying supporting clients to reach their full potential. She strives to make therapy enjoyable and engaging. Eunice always takes a collaborative approach as she believes that working closely with families, teachers and other professionals is vital in supporting speech, language and literacy development. Her therapy is tailored to the individual and their families. She particularly strives to incorporate tactile, visual and auditory strategies in order to cater to each client's different learning styles.
Eunice is able to speak Mandarin fluently and has experience delivering speech pathology services in a range of settings including primary schools, hospitals, pre-schools, aged care facilities and private clinics.