Hannah Smith
Certified Practising Member of Speech Pathology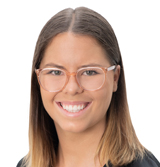 Hannah Smith
Hannah has recently completed her Bachelor of Speech Pathology (Honours) from one of Australia's most established Universities for Allied Health, The University of Newcastle. She is a Certified Practising Member of Speech Pathology Australia, the occupations leading body.
Hannah is driven to assist her clients to fulfil their aspirations and goals and achieve outstanding outcomes, through the utilisation of best evidence practice available and a little creativity. Therapy for every client is tailored to their individual needs, ensuring it is functional and client – centred. She has a passion for building strong relationships with clients and their families and strives to create a safe and enriching environment for her clients. Hannah recognises the importance of collaborative work with family, teachers, other allied health professionals and the wider community.
She is interested in both adult and paediatric caseloads with a special interest in Disability. Hannah is proficient in sign language and Key Word Sign, which can be taught to the whole family to facilitate greater communication.
Hannah has experience providing Speech Pathology services within the NDIS framework and in a range of different settings such as hospitals, aged-care facilities, primary schools, pre-schools, private clinics and in the comfort of a person's home.