Dany Touch
Masters in Occupational Therapy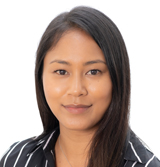 Dany Touch
Dany graduated with a Master's in Occupational Therapy at Western Sydney University. Dany is passionate about helping individuals achieve their developmental milestones and also in reaching their desired goals. Sessions are tailored around improving an individual's independence.
Intervention may involve:
Developing and improving skills/abilities
Adaptations in the environment (physical/social, including home or school modifications)
Adaptations to the task/activity
Adaptive aid/device (equipment)
Support from a 'helper' - including the type, how much and how often (quality, quantity and frequency).
Dany utilises a collaborative and person - centred approach whereby interventions and therapy will be tailored around the individual's goals and strengths. Furthermore, Dany approaches therapy by viewing clients as equal partners in planning, developing and monitoring care to make sure it meets their needs - this involves working with people and their families to find the best way to provide care. Dany has experience in delivering occupational therapy services in a range of settings including primary schools, hospitals, pre-schools, aged care facilities and private clinics.